Where all people are welcome and differences are celebrated as the splendor of God's creative expression!
 
The True Message of Christmas
The joy of Christmas shines forth each year in so many ways—the smile on a child's face, the shining eyes of those enjoying the beautiful lights and decorations, the human kindness and generosity that flow so readily, and the comfort of our holiday customs and traditions. Yet, we sometimes forget the deeper, more profound reason that we celebrate the birth of Jesus.
The message and mission of Jesus is to awaken humankind from its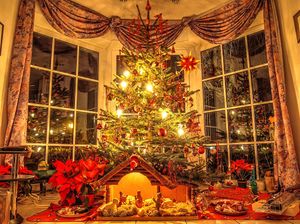 illusion of separation and restore us to a consciousness of the Christ. How do we apply this in our every day lives? How has the world been impacted because we have forgotten the Truth about ourselves?
We have created the world we see. It reflects back to us our beliefs in lack, competition, illness, danger and death. It is the purpose of the world to show us these things so that we may recognize the impact of the beliefs we hold—beliefs that are not true and that have created the illusion of suffering in all of its many forms.
A Course in Miracles has many exquisite passages that explain the return to Christ consciousness. We share some excerpts below. We invite you to use these writings and affirmations in your personal prayer time, especially when you are feeling anxious about the seeming suffering in the world.
When we are determined to see that nothing in our outer experience has any meaning, a door will open behind the world that we see and show us another reality—one that is truer, lighter and more peaceful.
To accomplish this, we practice but an ancient truth we knew before illusion seemed to claim the world. And we remind the world that it is free of all illusions every time we say these things:
     God is but Love, and therefore so am I.
     All things are echoes of the Voice for God.
     In my defenselessness my safety lies.
     I am among the ministers of God.
     I walk with God in perfect holiness.
     I am as God created me.
     There is no death. The (Child) of God is free.
     There is no cruelty in God and none in me.
      I am at home. Fear is the stranger here.
A star, a light in darkness, is the sign of Christmas. See it not outside yourself, but shining in the Heaven within, and accept it as the sign that the time of Christ has come. This Christmas give the Holy Spirit everything that would hurt you... The Prince of Peace was born to re-establish the condition of love. Let no despair darken the joy of Christmas, for the time of Christ is meaningless apart from Joy.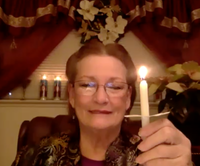 The joy of Christmas is always present, in so many ways. We at USC send Christmas blessings to you and yours.
Rev. Carla 
Join us for Sunday Services now in person at the Sylvan Community Center two times a month, and on Zoom! Check the schedule for this week's location.
All services are also Live Streamed
on Facebook at this link:
https://www.facebook.com/UnitySpiritualCommunity
(scroll down to find the livestream)
For all Zoom services, classes and meditations click here:

Unity Spiritual Community blesses you as your donation helps support our ministry.
We give thanks for our shared abundance.
_______________________



Sign up here!