Where all people are welcome and differences are celebrated as the splendor of God's creative expression!
 
The Battle Over Abortion
Part 1: The Preexistence of the Soul
We present Part 1 of our article on The Battle Over Abortion, The Preexistence of the Soul, which provides the background and global view of our current thinking. Part 2: The Crack in the Cosmic Egg, explores the metaphysical causes underlying the turmoil in our world today. It will be available in the near future.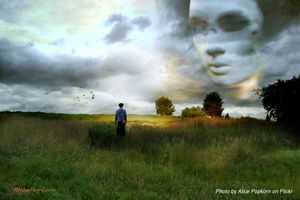 Why does the issue of abortion rights cause such a heated debate? We begin by discussing the spiritual implications of terminating a pregnancy, and why our right to do so causes such contention.
We will look at this multi-level issue from 3 different perspectives:
Unity's response to the Supreme Court ruling,
Traditional religious views, Christian and other, on abortion,
The deeper metaphysical significance of this conflict and this time in history.
We begin by sharing the statement released by Unity's parent organization, Unity Worldwide Ministries—use this link to read it: "We Stand For Reproductive Rights":  Whereas this statement addresses women's rights, it does not broach the question of the morality of terminating a pregnancy. Unity's other teachings, when taken as a whole, do address that issue.
When providing spiritual counseling concerning abortion, we stress two things: First, that in this, as in all things, we counsel folks to go to God first, then to follow divine guidance in pursuing action in the outer world. Unity does not take a stand for or against abortion. Unity takes a stand on the individual's right to follow the guidance they receive in prayer.
The second thing we stress regarding abortion is the eternal validity of the soul. Unity teaches that each soul is an expression of God, eternal and indestructible. We have always existed and will always exist. It is the notion that souls are created in the womb, at some point between conception and birth, that has led to the heated debate over terminating a pregnancy.
This notion leads us to the role that religious views play in our justice system. Please use this link to continue reading.