Lenten Outreach:
Citrus Heights Navigator and HART Programs
Unity Spiritual Community has selected the Citrus Heights Navigator program to be the recipient of this year's Lenten Outreach project.
The Navigator program is part of the City of Citrus Heights, the Citrus Heights Police Department and Sacramento Self Help Housing. The Citrus Heights Homeless Assistance Resource Team (HART) supports the Navigator with funding and resources. The Navigators' job is to locate each individual member of our community who is currently experiencing homelessness. Once contact is made, an initial intake is completed to assess the client and see which services the client needs and how they can be assisted in getting off the street. Find their website at https://citrusheightshart.org.
From HART: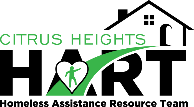 February 2021
Thank you!
This year the 2021 Winter Warming Center welcomed 62 different guests- 46 men and 16 women- during the 5 weeks from January 4th to February 5th.  These folks were able to visit with Navigator Toni Morgan, rest, have a hot meal, and a nutritious to-go meal.  During the 4 hours each weekday, the guests had access to restrooms, clothing, first aid, device charging, encouraging conversation with volunteers, showers, and even haircuts!
During the 25 days & 211 visits by guests - certain supplies like hand warmers, hygiene items, shoes, coats, solar device chargers, backpacks and even two bikes- were offered to help our neighbors remain healthy during this cold and wet winter.  
193 volunteers (compared to over 900 for the overnight 2020 Winter Sanctuary) helped everyone follow food safety and behavior guidelines. Plus, they ensured that all guests and volunteers complied with the CDC recommended cleaning, sanitizing, and social distances- to keep all safe and healthy.  
We look forward to our next adventure together- to offer a hand up, not a hand out.
Thank you again!
The Citrus Heights Navigator may be reached by phone at (916) 533-3069
or by emailing navigator@citrusheights.net
Host Locations:
Antelope Road Christian Fellowship
Advent Lutheran Church
Celtic Cross Church
Holy Family Catholic Church
LDS Ladies Relief Society Citrus Heights Stake @ Celtic Cross Church
Guest Services provided by:
Navigator- Ms. Toni Morgan
HandsOn Sacramento- Volunteers, all sanitizing and safety supplies
Mercy Holistic Ministry- Shower Trailer
Just Serve- Guest Registration and Intake
Dignity Health- PPE, First Aid supplies, Hygiene items
AA Representative- David Connick
Fair Oak Church- To go meals
To-go Meal Outreach & Delivery- Kay Brown
WEAVE- Available by Phone
Hair Cuts- John Castillo
Sunrise Christian Food Ministry- Bottled Water, many food items, paper plates
D.R.I.V.E. Ministry- Hygiene kits
HART of Mesa- Hygiene kits
Citrus Heights Police Department- PPE, Advice
Starbucks Partners- Paper products for meals, coffee, T Shirts, briefs, 100's of socks
Plus, many individuals who listened to guests, ensured individual needs were met, helped with laundry, purchased unique undergarment needs, prepared meals, delivered meals, set up, cleaned up, sanitized, and so much more!