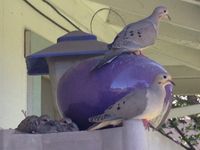 It's May! It's here! That joyous time of year! The Earth itself resonates with rebirth and renewal. The cycles of nature are God speaking to us, teaching us about ourselves. The leaves drop in the fall and return in the spring. We live, and die, and live again. Each part of life comes and goes in perfect rhythm and divine harmony. 
Nature has been very active during our recent time of confinement – a word that has traditionally been applied to the period that precedes giving birth. 
And new birth has been given! Yesterday, in one of the social media groups that I follow, we were privileged to observe the birth of three Papillon puppies. Papillons, meaning butterflies, are small, bright-eyed, gloriously plumed and feathered dogs. There are over 1700 people who follow this group. We were involved in the anticipation, preparation and joy of delivery of two girls and one boy, weighing 5 ounces, 3 ounces, and 5 ounces. In this time when our daily lives are stressful, we participated in a global web of love and rejoicing—connecting strangers in the awareness of the sweet, sweet promises of nature. 
For the past several weeks, I have observed two doves brooding on their nest outside my back door. From the first day when they perched on my back fence, choosing their spot on top of a shelf set; through days of cold and rain when it was obvious that they chose well, remaining dry and sheltered; to the day I saw the hatchlings, then saw them rapidly grow into fledglings; I was part of their hope and drama. I saw the adult doves return to their perch on my back fence and the now-big babies practice flapping their newly feathered wings. Then I found the nest empty. It was perfect. 
I couldn't feel sad that they were gone. Life is about coming and going and growing. After I removed the nest, I walked around to the side of the house and found that the purple clematis vine had just blossomed, and that bees were feasting on an early blooming privet. Life abounds, change is the only constant. Nature reflects God's plan of good in every moment. 
We, too, have been moving through a period of retreat and the confinement that precedes birth. We, too, are constantly growing and changing. We are creating a global web of love and rebirth. And, we, too, are celebrating the return of spring! 
I close with these lines of verse, excerpted from Pippa's Song by Robert Browning: 
     The year's at the spring, 
     And day's at the morn; 
     Morning's at seven; 
     The hill-side's dew-pearl'd; 
     The lark's on the wing; 
     The snail's on the thorn; 
     God's in His heaven, 
     All's right with the world! 
Much love, always, 
Rev. Carla